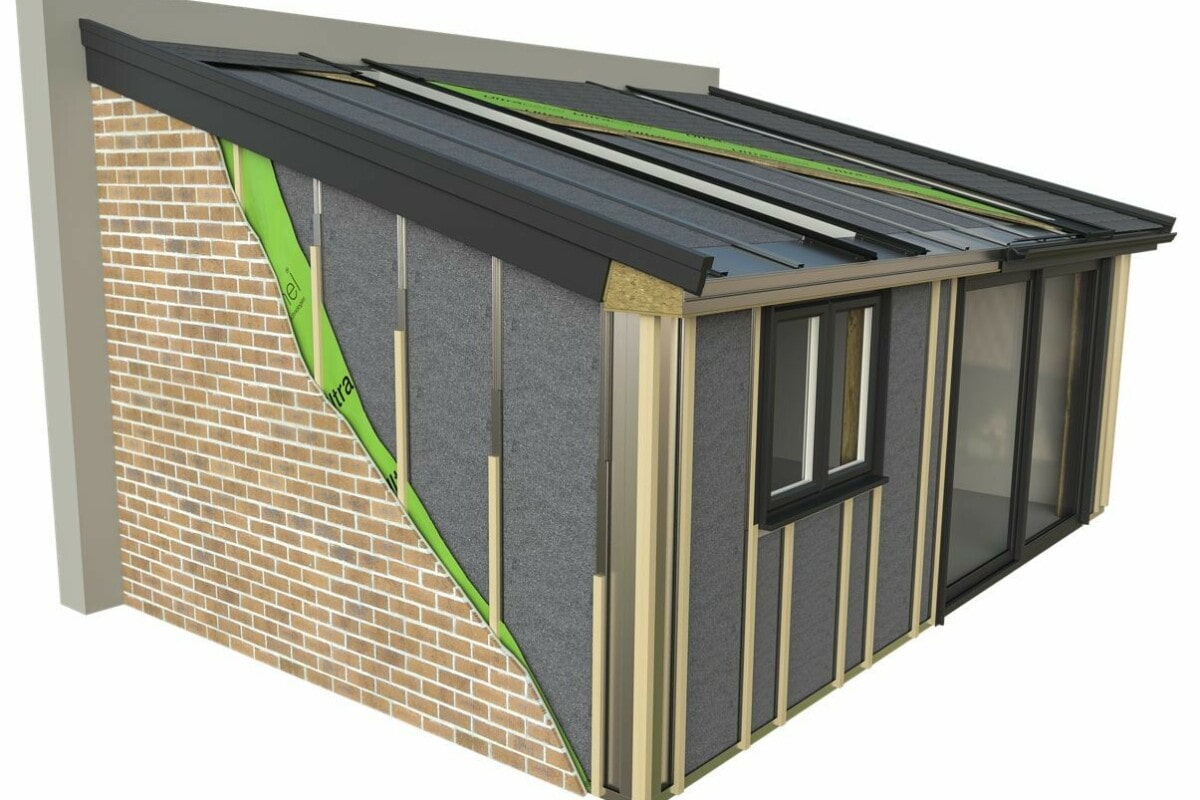 The Benefits Of Having A HUP Extension Installed
Our research has shown that a lot of people put off their home improvement projects as they are worried about the uncertainty and upheaval involved.
As a retired homeowner, busy family or work stressed professional, you may wish for more living space or a room that better suits your needs, but can't find the time or motivation to get the project moving. Extending traditionally can mean disruptive and expensive building work, but a HUP prefabricated extension for UK homes delivers an innovative modern solution offering real value for money. With rapid installation, extensive customised options, and streamlined project management, a HUP extension adds space without hassle.
So, What Is A HUP Extension And Why Are They Becoming So Popular With UK Homeowners?
HUP glazed extensions are a new and innovative contemporary building method for home extensions that aims to revolutionise both energy efficiency and design possibilities, creating beautiful and bright living spaces quickly and with minimal disruption to the existing structure of the home.
By using a fast to build and highly energy efficient prefabricated wall solution, natural light is maximised in the home, with excellent insulation properties. These glazed extensions can be used as single-storey traditional extensions, conservatories, or orangeries, with a typical design utilising large windows and glass roof panels to maximise sunlight exposure and create a seamless connection between indoor and outdoor spaces.
Five Times More Energy Efficient Than An Average UK Home
HUP extensions from Ultraframe utilise patented Ultrapanel technology that ingeniously combines the strengths of steel, timber, and insulation, resulting in exceptional thermal performance that significantly exceeds UK building regulations. In fact, with ultra-low U-Values between 0.12-0.17, HUP extensions achieve energy efficiency levels up to five times better than an average UK home.
These highly insulated prefabricated panels create an airtight building envelope that provides outstanding heat retention, keeping your HUP space incredibly warm and comfortable, despite its vast expanses of glass. You can enjoy the aesthetic benefits of light-filled rooms without energy loss or heat management concerns.
Flexible Design Options, Able To Be Configured For You
A major perk of HUP is the creative freedom it allows in designing your ideal extension. You aren't limited to a one-size-fits-all conservatory, as HUP offers total flexibility, including roof types, windows, doors, and exterior finishes. This enables your extension to perfectly match your home's look or create a stylish contrast.
Choose between dramatic pitched ceilings or sleek flat roofs.
Frame views with enormous sliding doors or brighten up a room with overhead skylights.
Opt for authentic brick finishes, contemporary timber cladding or a modern render.
Every detail can be tailored to your lifestyle and aesthetic tastes.
Quick Building With No Onsite Glass Cutting
HUP extensions are manufactured offsite in a high-tech factory, before being shipped to site for rapid installation. Materials are precisely cut and assembled into finished panels, so that the prefabricated kits can be rapidly installed at your home with minimal disruption. This revolutionary process condenses a build from many months to just days or weeks. You'll be enjoying your new living space in no time, without the noise, mess, and stress of traditional construction methods.
Precision Engineered To Guarantee A High-Quality Finish
The exceptional engineering of an Ultraframe HUP extension guarantees a flawless high-end finish. HUP's patented Ultrapanel connections interlock with millimetre precision across walls and roofs, eliminating any gaps or cold spots that could compromise insulation, assuring you of uniform thermal performance and structural stability throughout your home.
Furthermore, as HUP extensions are rigorously tested and approved by the BBA for a minimum 60-year lifespan, you can relax knowing the build quality is engineered to the highest standards, and probably won't need replacing during your tenure in the home.
Can Be Fitted In Its Entirety By One Team
One major benefit of choosing HUP is the way the system streamlines the entire design and construction process while avoiding coordination hassles between contractors working on site. A team experienced in HUP installations, like Harveys Windows, will provide a comprehensive service encompassing initial consultations, design visualisations, pricing, and project management. Your extension is then fitted by the same skilled experts involved from the very start, so you need not worry about delays from outsourcing aspects of the project or miscommunications between multiple parties.
Next Steps
With solutions starting from just £14000 for a stunning new conservatory, HUP prefabricated extensions offer clear advantages whether you want to expand your home or upgrade an existing space. Contact the friendly experts at Harveys Windows today to learn more about the many perks of building your next home addition with HUP's innovative construction methods.

Image source: Ultraframe Trade