High Performance
Conservatory roof technology has come a long way in recent years. Advances in glass technology mean that glass is much more thermally efficient, reducing sun glare in the summer and retaining heat in the winter. Replacing your roof with high performance glass allows a plentiful supply of natural light to come into your home while still keeping your room comfortable all year round and reducing heating bills.
Your replacement glass roof can be customised by adding elements from a range of design and specification options both internally and externally.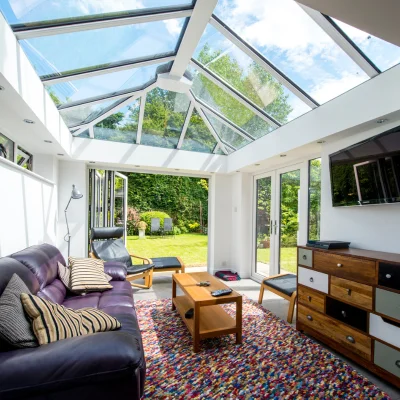 Insulated internal pelmet The internal pelmet, in any width between 300mm and 1200mm deep, means you can enjoy the light of a conservatory, the look of an orangery and the solid feel of an extension, all in one great value option. Not only will you gain added insulation, you'll also add ambience, with space for downlights, spotlights and speakers. Central lighting panel Choose a central lighting panel and add your choice of light fittings to the central roof ridge. Consider creating discrete pools of light for dining or relaxing, or create feature lighting as the focal point of your interior design. Insulated for added warmth, the panel can also be painted to match your décor. Decorative cornices Choose curved cornices for an effortlessly elegant traditional look or flat cornices for more modern designs. One, two or three tier flat cornices finish your structure in style, while hiding the gutters.
Glass specifications, all our roof glass is self cleaning, specially designed to remain cleaner for longer than conventional glass. The transparent coating on the glass harnesses the power of ultra-violet rays from the sun and rain (or water) to break down dirt and grime then wash it clean away. All our glass is toughened, double glazed safety glass: 4mm glass - 16 mm Argon filled cavity – 4 mm glass, with warm edge spacer as standard. It is manufactured in specialist roof glass factories and guaranteed for 10 years.
Frequently Asked Questions
An existing conservatory with doors into the house is exempt from Building Regulations but changing the roof to a solid one means that Building Regulations will apply. Don't worry, your Ultraframe retailer will take care of everything
It is perfectly feasible to change simple designs over the course of one day. Plaster boarding and skimming - if a solid roof - would then take place over the next day or so. Ultraframe retailers will protect any existing floor etc during the project.
In England and Wales. Ultraframe works with an approved inspector organisation called Jhai. They ensure the necessary procedures are followed and issue a completion certificate for you, which you can file with the deeds to your property. In other regions of the UK, other arrangements are in place.
Suspending pendant lights at the highest point of the vaulted celling is fine as there are structural braces inside the plasterboard to take the weight of the lights. Spotlights can fit into the 300mm deep peiment that runs around the perimeter - this can be varied to make this pelmet even more pronounced. You can add a central lighting panel and or an insulated pelmet to house lighting with a classic roof too.
A Livinroof and Ultraroof both have the option to insert large glazed panels in virtually any position to allow light into your home. Rectangular panels only in Ultraroof.
Both Livinroof an Ultraroof have been stringently tested to ensure compliacne with fire safety testing. In eachh case, the entire solid conservatory roof has been tested. Our partners for this testing exercise are Exova and WarringtonFire. These independent and recognised companies can qualify that each roof is compliant to British Standards (BS) and European Standards (EN).
- Livinroof is fire rated as B-roof according to EN 13501-5:2016
- Livinroof is fire rated as AA according to BS476-3:2004 (Aluminium panel)
- Ultraroof is fire rated as B-roof according to EN13501-5:2016
- Ultraroof is fire rated as AC according to BS476-3-2004
It is perfectly feasible to change simple designs over the course of one day. Plastor boarding and skimming - if a solid roof - would then take place over the next day or so. Ultraframe retailers will protect any existing flor. etc during the project.
Yes - you can choose from our Classic roof with high performance glazing. Our Ultraroof tiled system or Livinroof with its mix of glazing and grey insulated solid panels.
Livinroof & Ultraroof are much lighter than other replacement roofs and not much heavier than a glass roof. (Livinroof has a weight of only 31kg/m3 and Ultraroof weighs only 38kg/m3). This often enable the original window frames to be used, providing a saving to the homeowner if require.
The difference in loading on the foundations is negligble. Provided there is no sign of settlement in the base there is no need to 'boost' the foundations. Please consult your retailer if in any doubt.
As the roof complies with Building Regulations, it is as thermally insulated as possible. In fact Livinroof and Ultraroof are up to 15 times more thermally efficient than the roof being replaced. This will mean you can have greater comfort and lower bills than you have been used to. You can also keep the ligh too with both Livinroof and Ultraroof. If you choose a Classic roof with performance glass this can also framtically improve thermal performance of your conservatory.
Traditional Conservatory & Orangery Style Roofs
The Classic Roof
Whether you want to add your new Glass Roof to a conservatory, orangery or house extension, you'll be able to achieve your design aims with this system, which uses the latest materials and glazing technology to deliver results that are both aesthetically and practically outstanding.
When added to a conservatory, the design of this roofing system can be complemented by adding performance glass. Creating stunning external sightlines will also be possible when you add a decorative cornice to the outside of your new room to hide the guttering.
Build a traditional looking orangery easily by using this glazed system in tandem with a plastered internal pelmet, pier and dwarf wall. Alternatively, if you want to add this roof to a house extension, you can use it in conjunction with super insulated or brick columns to achieve a modern or classic effect.
Interested In Our Products?
Download one of our product brochures and learn more about how we can transform your living environment into a masterpiece!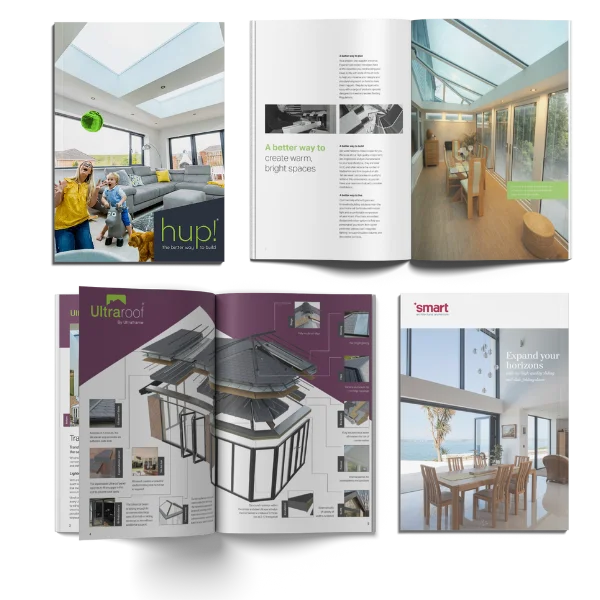 FILL IN YOUR DETAILS HERE 👇
Trusted Reviews
What Our Customers Say
Guaranteeing Quality & Peace of Mind
Our Certifications