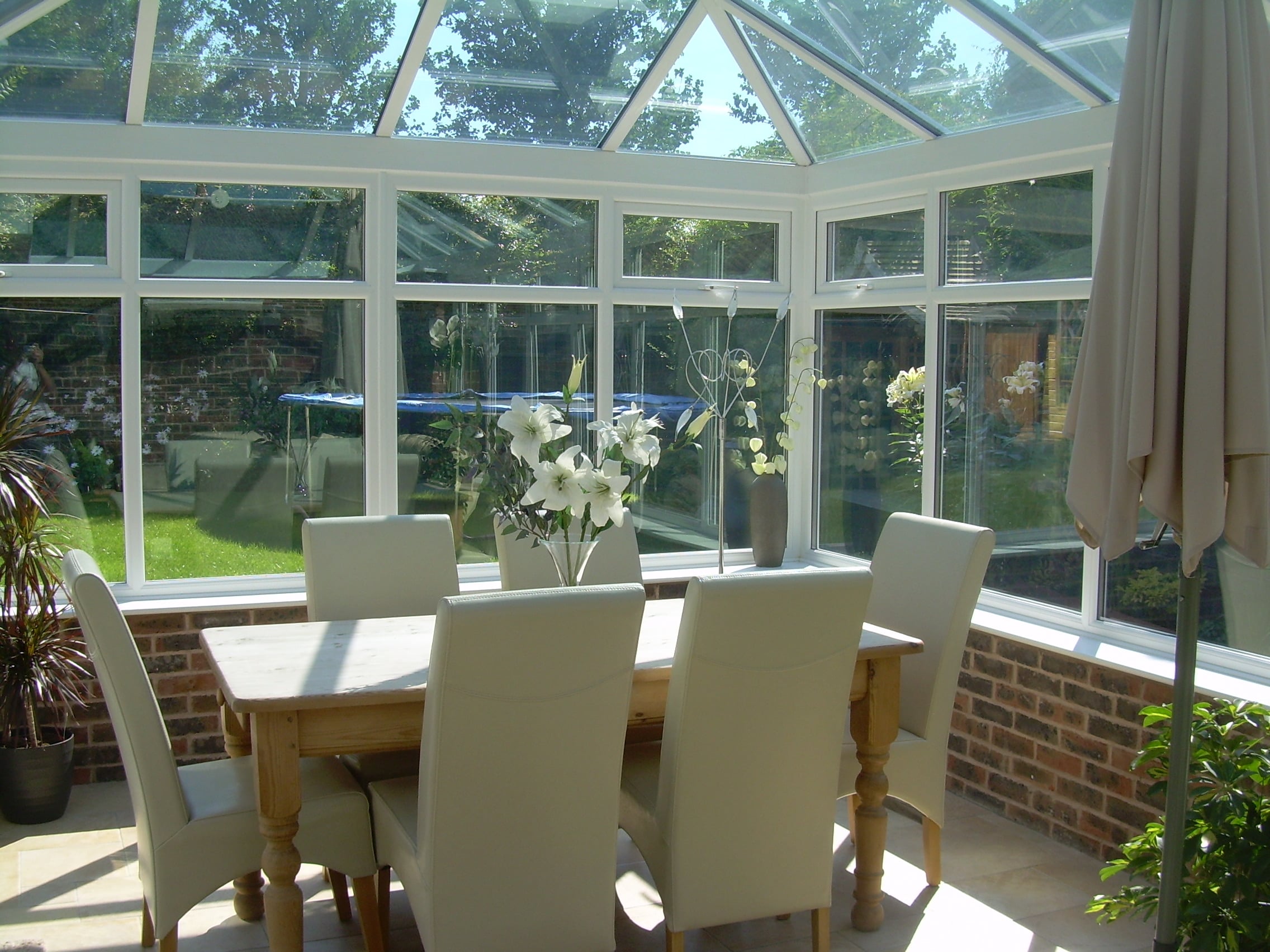 What To Consider When Looking At Your Ultraframe Performance Glazing Options
Installing a Harveys Ultraframe conservatory or orangery is an exciting home improvement project, one that is guaranteed to provide many years of pleasure for you and your family, and add thousands of pounds in value to your home when you come to sell. With so much glazing involved in constructing a high-quality conservatory, the glass you choose can truly transform the functionality and comfort of your new space. This is why a low-quality conservatory often isn't usable for much of the year – because the glass fails to conserve warmth in the winter and allow excess heat to escape during the summer!
When exploring your options, therefore, glazing performance is critical to keep in mind as it will affect everything from aesthetics and usability to how much maintenance is necessary over the lifetime of your conservatory. Here are the key factors to consider:
Harness UV Rays With Self-Cleaning Glass
One very convenient feature to look for is self-cleaning glass. This type of glazing has a special transparent coating that utilises the sun's UV rays to loosen dirt and grime on the surface of the glass, which naturally builds up from deposits from wind, rain, and snow, while also inhibiting the growth of algae over the winter.
When it rains, the loosened particles easily wash away, so you'll spend less time manually cleaning the glass. Self-cleaning glazing ensures your conservatory offers clear views with minimal maintenance, and it's particularly beneficial for your Ultraframe glass roof if you don't fancy being up and down ladders cleaning your conservatory windows every couple of months.
Manage Sun Glare And Heat With Solar Rejection
For sunny south and east facing conservatories, solar-rejecting glass is an excellent choice for deflecting the sun's heat and minimising intense glare during the hottest summer months. This glazing blocks a portion of the UV and infrared rays, preventing thermal heat from entering the space, while still maintaining your conservatory at a comfortable level of light and heat.
The higher the percentage of solar rejection, the more heat is reflected away, so remember that if your conservatory is in a shadier spot, you may prefer your Ultraframe roofing to feature glass with lower solar rejection to let in more natural sunlight.
Reduce Heat Loss With U-Value Rating
When comparing performance glass options, pay close attention to the U-value rating, which indicates how quickly heat transfers through the glazing. The lower the U-value, the better the insulation – i.e the warmer your conservatory will stay in winter and the easier and cheaper it will be to heat. High-performance glass with a low U-value is ideal for keeping your conservatory cosy in winter and reducing energy costs for heating.
Guard Against UV Damage With Protection
To safeguard your furnishings, cushions, rugs, and photos from sun damage, look for glass with a high percentage of UV protection. The sun's intense rays can quickly cause fading, discolouration, and deterioration in fabrics, floors, furniture and other interior items within a matter of months, so glazing that effectively blocks UV rays will prevent this type of damage, keeping your decor vibrant for years.
Reduce Glare With Light Transmission Percentage
Light transmission refers to the percentage of visible light able to pass through the glass. Conservatory glazing with lower light transmission allows less intense glare to enter your space. Why would you need this? Reducing glare is particularly beneficial if your conservatory faces south or west, where direct sunlight is more prevalent in the afternoon and evening. The result is a more comfortable environment ideal for dining, relaxing or entertaining.
Consult The Experts At Harveys For Performance Glass Recommendations
With extensive options for high-performance roof and frame glazing, it helps to consult a window and conservatory specialist in your local area for their advice on the best option for your home and budget. At Harveys Windows, for example, our team can help you assess factors like your home's orientation and sunlight exposure to recommend the ideal glass. With prices for conservatories starting at £13,000, it's worth investing a little more in the right glass choice so you can enjoy your conservatory year-round for decades to come.
Ready to explore your glazing possibilities? Contact Harveys Windows today and our expert team can help you select Ultraframe glazing that excels in beauty, durability, and energy efficiency.