Extend Your Home
A flat roof extension is the modern way to extend your home and create a Grand Design. With the new space opened up to your existing home, it is a fantastic way to create the large open plan living space that so many families desire. Flood your extension with natural light with the addition of stunning glazing in the roof. Choose from Ultrasky Flat Skylights or Stratus Lanterns to create your perfect extension. Including large spans of bi-fold or sliding doors into your Flat Roof Extension will bring in further light while enhancing the modern look and creating a seamless link with the outdoors.
Suitable for use with a flat roof or traditional orangery deck, a Stratus Lantern draws maximum light into your orangery or extension. The elegant 25° pitch to all four sides provides a stunning addition to any room - ideal for creating a focal point in a dining room or kitchen.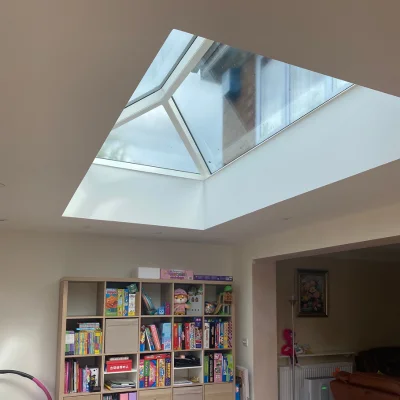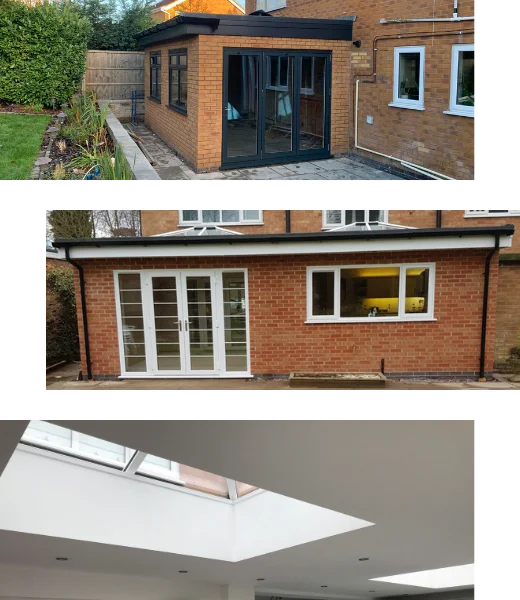 Highly Thermally Efficient
Stratus Lantern's extra strength means less bars and uninterrupted sight lines for maximum light. It is available in a wide variety of sizes to a maximum width of 3m and a length of 6m.
Available in sleek aluminium Stratus Lanterns are is available in grey, black or white as standard or choose a bespoke colour to suit your property.
Highly thermally efficient glazing options will help reduce heat loss and noise pollution, whilst letting the desired amount of light into your room. You can also add a roof vent to improve ventilation and let the fresh air in. Roof vents are available with a manual opener, automatic opener or an automatic opener with rain sensor and temperature control.
The Stratus Lantern combines fresh modern styling with natural light to create a beautiful warm glazed extension with the style and grandeur of a traditional orangery.

Ultrasky Flat Skylight
The Ultrasky Flat Skylight is a stunning contemporary choice for bringing light into your Flat Roof Extension. Its distinctive frameless edge-to-edge design (with the option of blue glass), creates a stunning look that allows the largest possible amount of light into the room. The fully insulated frame with 'Warm Frame' technology and high-performance noise-reducing glass means the Ultrasky Flat Skylight reduces any noise from outside and is unrivalled in terms of thermal efficiency. Available in sizes up to 1.4m x 2m. Flat Roof Extensions, the modern way to extend your home.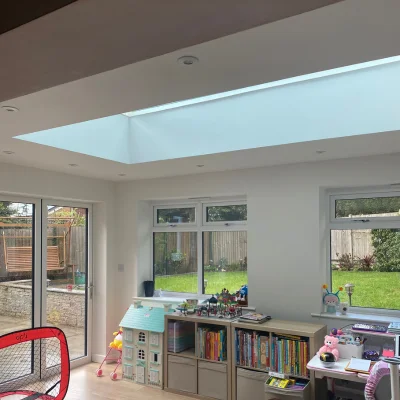 Interested In Our Products?
Download one of our product brochures and learn more about how we can transform your living environment into a masterpiece!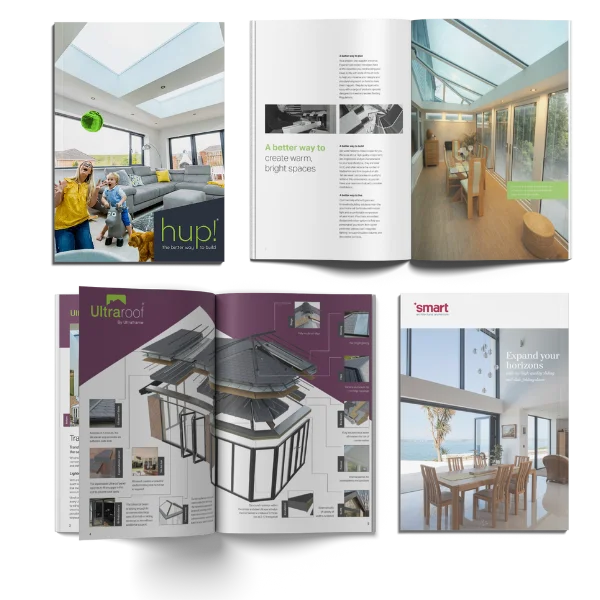 FILL IN YOUR DETAILS HERE 👇
Trusted Reviews
What Our Customers Say
Guaranteeing Quality & Peace of Mind
Our Certifications