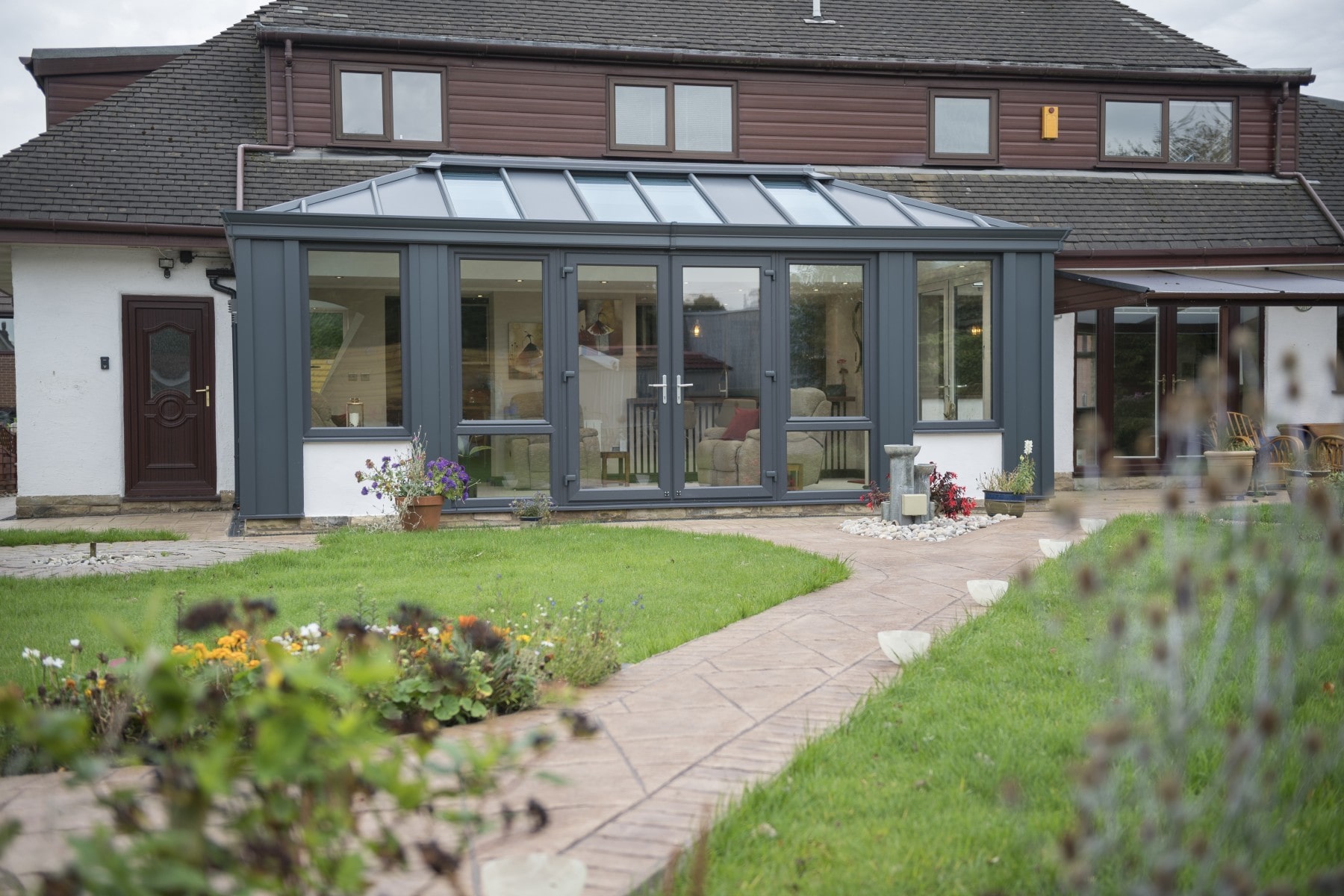 Who are Ultraframe and Why Should You Use Their Products For Your Home Projects?
With over 35 years of experience, Ultraframe has grown into one of the most trusted brands in conservatory and extension products in the UK. Installing Ultraframe conservatories, orangeries, or other extensions has helped homeowners enhance their living spaces and add value to their properties, and as Ultraframe installation and supply partners for the Leicester area, we here at Harveys Windows have been very impressed with the value, durability, and quality of their products.
Quality Products Prefabricated To Your Specifications
So how do Ultraframe conservatory roofing products compare to other manufacturers? The main difference is that rather than relying on entirely onsite construction, Ultraframe products are pre-manufactured offsite to fit your home's dimensions precisely. This precision engineering enables quick and seamless installation with minimal disruption, saving you time and hassle, but also reducing the labour involved with installation, which can often double the cost of a conservatory.
Endless Customisation Options
You can customise Ultraframe products fully to match your tastes and complement your home's existing architecture and style. With a wide selection of styles available from traditional to contemporary, you're certain to find the perfect look, and we are happy to work with you to help you select the perfect solution for your home. Choose from various colours, finishes and lightweight tile options to match your interior design vision.
Integrated lighting, speakers, roof vents and skylights are just some of the many optional extras to tailor the functionality to your lifestyle. As experienced Ultraframe installers, the Harveys team will collaborate with you from concept to completion to bring your dream conservatory or extension to life.
Meets Building Regulations For Simpler Approval
Ultraframe designs its products specifically to comply with UK building regulations, making getting the required regulatory approval much faster and more straightforward compared to dealing with some other construction approaches.
With less red tape and expense, you can get the green light faster and start constructing your new space sooner. The extensive testing and certification that Ultraframe products undergo makes council approval virtually guaranteed.
Reliability Backed By Decades Of Experience
With over 2 million Ultraframe roofs installed across the country and many carrying a 25-year BBA certificate, you can depend on their exceptional quality and service. As a leader in the UK roofing industry for over three decades, Ultraframe has the expertise to deliver outstanding craftsmanship and results. When combined with the experience of a knowledgeable installation partner, such as Harveys, Ultraframe's reputation for reliable products gives you complete peace of mind when investing in a new conservatory for your home.
Add Space And Value With A Trusted Brand
Whether you need more breakout space for the kids or grandkids, an inviting room to enjoy the warmth of spring and early summer, or simply want to increase your home's market appeal, Ultraframe is a name you can trust. Their reputation for high-quality manufacturing and sheer number of successful installations is unmatched. By choosing Ultraframe, you can be confident you are adding tangible value to your property in the form of extra living space.
Harveys Windows: Your Local Ultraframe Installers
Harveys are proud to announce their recent success in being invited to join the Ultraframe Ultra installer scheme. Conservatory installers have to demonstrate that they meet the standards required to join the Guild Approved Ultra Installer Scheme. The Scheme, which is approved by the GGF and BBA, provides our customers with the reassurance of certified recognition of quality and gives them the confidence that they are choosing a reliable installation company
Applicants and members undergo rigorous independent inspections which also has the benefit of giving them a head start in advance of any anticipated Building Regulation changes. Now we are accepted onto the Scheme, we will receive regular training at Ultraframe's School of Excellence to ensure that we are always up to date with new products and installation techniques.
To learn more about Ultraframe's range of conservatory and extension products for your home improvement project, contact a certified installer like Harveys Windows. As Ultraframe stockists, we can advise you on the best options for your property and budget, with options starting from just £13,000 for a new conservatory. Reach out today to get started designing your perfect new living space from Ultraframe.

Image source: Ultraframe