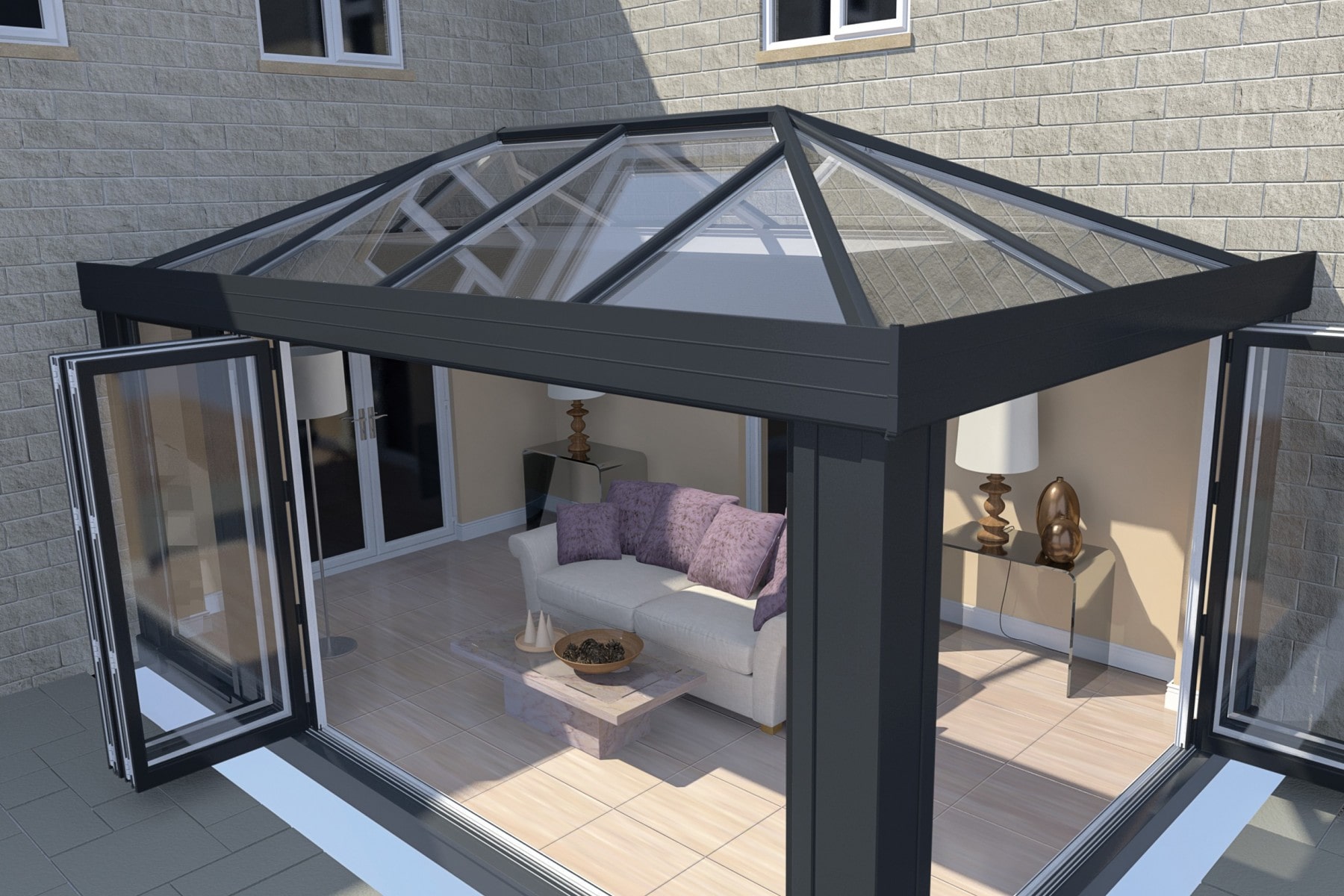 Which Ultraframe Orangery Option Is Best For You?
Adding an orangery can transform your home, expanding your living space with sophistication and style. Orangeries feature a more solid and substantial structure compared to conservatories, while still drawing extra space and natural light into the home. An orangery typically features brick or stone lower walls with large windows and a glazed roof, the name coming from their historic function of growing and protecting citrus trees during the colder months.
While they don't offer the same immersive experience with panoramic views of the surrounding garden as some conservatories, orangeries often have a more traditional and elegant appearance, with greater versatility of use, and are easier to blend seamlessly with the existing architecture of your home.
Compared to a conservatory, building an orangery is a more extensive and in-depth construction project, so the orangery range from Ultraframe is worth looking at if you're looking to maximise the space and lifestyle value from your budget while reducing build times and costs. However, with the many design choices available, how do you determine the best Ultraframe orangery for your needs?
Here are some key options to consider when selecting a Harveys Ultraframe orangery.
A Modern Take: The Contemporary Orangery
For a modern twist on the traditional orangery, a contemporary design allows ample natural light into the home while providing warmth in winter. Contemporary orangeries from Ultraframe feature the Ultrasky Roof, which combines fresh, sleek styling with innovative glazed roof technology. With fewer roof bars, the Ultrasky Roof maximises both light and views, integrating many of the traditional benefits of a conservatory into contemporary orangery design.
The contemporary orangery range from Ultraframe also utilises super-insulated columns for thermal performance that are five times better than traditional brick pillars, enabling ample glazing to brighten the interior without sacrificing energy efficiency.
With its abundance of light, spacious feel, and solid insulation, the contemporary orangery creates an inspiring living space for the whole family. You can enjoy your contemporary orangery as a tranquil retreat or lively gathering place, depending on your mood and lifestyle. Abundant light lends itself to reading nooks, home offices and studios, while for more social functions, the open, airy interior provides a perfect backdrop for hosting family and friends.
Period Charm: Traditional Orangeries
Homeowners wanting to evoke period elegance and style may prefer one of Ultraframe's range of traditional orangeries, with classic glazing and timeless brick pillars. Complemented by decorative cornices and finishes, the traditional orangery blends historic grace with Ultraframe's advanced insulation rating and modern construction materials.
Bask in natural light from the comfort of a classic armchair or host refined dinner parties; the traditional orangery brings ornate beauty into the present day. The traditional orangery's sense of heritage makes it ideal for homes with existing period features, the brick pillars, pelmets and cornices enhancing a wide range of historic architectural styles, from detached Georgian farmhouses to Victorian terraced townhouses and 1930s mock Tudor family homes.
A Stunning Focal Point: The Lantern Orangery
For a breathtaking statement, incorporate an Ultrasky Lantern into a flat roof to create a truly unique orangery. This eye-catching focal point floods the space below with pristine natural light at all times of year. With its 25° pitch on all four sides, the Ultrasky Lantern lends drama to kitchens, dining rooms and lounges.
The lantern orangery is ideal for homeowners wanting to make a bold statement. The sleek Ultraframe orangery roof incorporating the Ultrasky Lantern draws the eye up, creating an immediate wow factor and maximising the sense of space and light in the room. Use this showstopping space to host unforgettable dinner parties or simply admire the vista.
Versatility For Changing Needs
A key benefit of orangeries over conservatories is their versatility. Effective insulation and temperature control turn orangeries into flexible living areas that are usable for a variety of purposes all year-round, from sunbaked summer afternoons to cosy Christmas dinners. Easily adapted to contemporary needs such as home offices, family rooms or gyms, Ultraframe orangeries change as your household evolves.
The Right Choice For You
With style options from traditional to contemporary, Ultraframe enables you to select the ideal orangery to enhance your home. A fusion of custom design, ample natural light and superb materials engineering creates a comfortable, inviting living space for almost any family requirement, and with the cost of a new Ultraframe orangery from Harveys starting at just £20,000, creating your dream orangery is more affordable than you may think.
Get in touch with the experts at Harveys Windows today. Our team can help you determine the perfect Ultraframe orangery design to unlock your home's potential.

Image source: Ultraframe